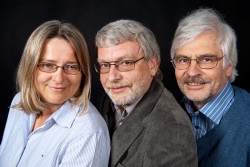 Thomas Knacker († October 30, 2011) and Jörg Römbke were among the founders of ECT back in 1993, while Anja Coors joined the management team in 2010. Based on their research interests and scientific experience, the currently two management directors cover different key activities at ECT: Jörg Römbke is specialized in terrestrial ecotoxicology as well as taxonomy and biodiversity of soil organisms, while Anja Coors is particularly active in the field of pharmaceuticals, mixture toxicity and multiple stressors in addition to her interest in statistics.
Our main objective is maintaining ECT operative by efficient internal management, initiating scientific and service-oriented projects, and keeping in good contact with our customers to learn about their needs.
Highly skilled and accessible staff is our most valuable asset to solve our customer's problems and to maintain a creative working atmosphere.